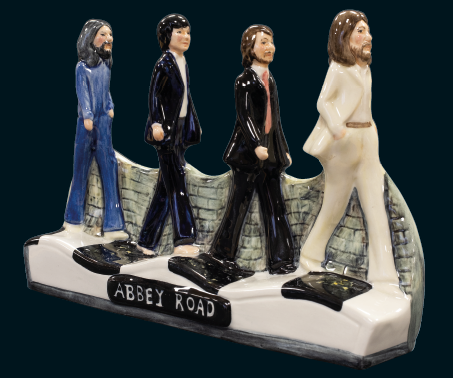 Please click on the above image for a link to go through to the British Beatles Fan Club website, where the full version of the following review by Peter Sims first appeared.
Thursday, 13th May 2021
"With probably well over 2000 books published about The Beatles since 1962 (not even allowing for those published in other languages) do we need yet another book about them? Maybe, maybe not. But Rivals Of The Beatles is not the story of The Beatles as such. It is the story of some of the other groups who were affected by them along the way. All these acts in one way or another were influenced by, or owed a debt to, The Beatles.
Rivals Of The Beatles is an excellent piece of work, and would be a worthwhile addition to the libraries of Beatles fans. It is interesting and well written and, although it contains a lot of information, Rivals Of The Beatles is a highly entertaining read.
Reviewed by Peter Sims
Peter is a contributor and moderator at www.45worlds.com as JPGR&B and is currently creating an online bibliography of The Beatles.
Friday, 18th June 2021
"Hi Martin, I have just finished reading Rivals Of The Beatles. Wow, what a wonderful book; it brought back so many memories. I am tempted to go back and read a few chapters again so that I can take it all in. There is so much detail. You must be very pleased with it.
Would it be possible to buy another copy? We have someone in mind who is a big music fan, especially of The Stones. We're sure he would enjoy it."
Martin Curran, Hertfordshire
Friday, 18th June 2021

"Rivals Of The Beatles is an extremely well written book with many fascinating facts about some great 60s bands. It's almost like having 20 biographies in one, so good value for money. A must read for anyone who loves 60s music."
Russell C. Brennan, owner of Future Legend Records.
Author and record producer of hit acts. Listed in the top 20 most innovative record producers of all time on some websites. Editor of Dedicated Follower music fanzine.
Tuesday, 8th June 2021
As someone of a certain age and a passionate muso, I was very interested to hear about Martin's book, Rivals Of The Beatles. When I say 'Book', I mean Magnum Opus, as anyone taking on the challenge of reading it from cover to cover (as I did) will end up with sore arms if they try to read it in the bath. At over 800 pages this could never be described as light reading!
That said, Rivals Of The Beatles is a wonderful, rich cornucopia of facts and anecdotes about those early days of rock music. I pride myself on knowing a bit about the genre, but I was constantly astonished at Martin's depth and breadth of knowledge about a subject clearly dear to his heart.
Anyone who loves music and The Beatles should read this book – just not in the bath.
Mark Coffer, Hertfordshire.
Monday, 7th June 2021
I still have a pile of LPs, which I cannot bring myself to dispose of. I recall my brother once went to a party and there, I think, is where my fabulous Beatles singles were lost to me.
All of Martin Orkin's in-depth knowledge of that era had to find an audience. Martin could have chosen Mastermind, the television show, where there is little doubt he would have excelled in the specialist round. Instead he has produced an eight hundred page book: Rivals of the Beatles. Physically it is a beauteous item to hold. Clear, good size print – for we who have the most interest have progressed in years!
Rivals Of The Beatles sets out to establish what made The Beatles the world champions, and why other groups were unable to achieve the same success. It is packed with incredible details, many of which will be unknown to most people until they read this work. It is a fascinating journey of comparison and contrast which may, in years to come, form the basis of a college course on the history of popular music. Already some universities apparently offer courses on studying The Beatles, so why not their Rivals as well? In the meantime, this book provides a super journey back into the days when music really was music.
Stephen from Scotland.
Tuesday, 11th May 2021
"Reading Rivals Of The Beatles, I feel like I am in a time machine taking me back to a time when I was growing up and listening to all that wonderful music in a Golden Age!!! This book perfectly captures the synergistic relationship between the Beatles and many of their contemporaries/rivals! They influenced, learned, and benefited from each other's talents. The world could use that chemistry once again!
A wonderful book, Martin!!!
Congratulations!!!"
John Bezzini, USA.
Administrator of 'The Beatles In Print - Together And Solo' Facebook group."
[John Bezzini's Facebook group is US based and is comprised of Beatles and similar music-related fans. His group has 3,300 members!]

Tuesday, 27th April 2021
"Oh my gosh! What a book! How come you know so much detail? Amazing!
OK. I've had a chance to look at your book, Rivals Of The Beatles...
The first thing which strikes me is that although it has so much detail, you write in a folksy way. For example: "And how long would that last for? One year?" So it is easy to read. Also it is a personal story – "They were a sugar pop confection "; "A dreadful cover"; "He couldn't stand Dylan". I am sure those comments will help sell the book, as people recognise that they come from someone who is very knowledgeable, and entitled to make those judgments.
Some particular points:
1. I love the layout in separate paragraphs.
2. Star appraisal of each song is fab.
3. 20 rivals to choose from.
4. Beautiful production and pages don't flick close.
5. Font style ✅
6. Size of font ✅
7. Good price!
8. Detail is phenomenal.
9. Humour ✅
10. Reviews section... very clever, dear boy.
All in all.... ✅✅✅.
Well done! You should feel so proud you have been able to write this from scratch, and there is so much information in it. You put the whole thing together on your own, without an editor and with no errors. There is a lot there, and of course that was your intention, so that is great. A real legacy for you, your family and the whole music industry. I really do hope it is a commercial success. It deserves to be one."
David Futerman, London.

Saturday, 7th November 2020
"It's been 50 years since The Beatles split up. One would think that everything that could be said about The Beatles, would have been said by now. But wait. Along comes a book written from a new perspective that provides fresh insight into the genius of The Beatles while confirming yet again how utterly magical and imperious they were. We can say this of course based not only on their musical output and legacy, but also from the tales of the 20 groups whose differing fates are outlined in this superb narrative.

To be successful in the pop world requires so many different elements that need to work hand in hand. Factors such as musical ability, songwriting talent, looks, charisma, supportive management, record company backing, opportunity, good luck and so on. Some groups had a majority of these advantages but failed to make an impact; some had very few and yet were very successful indeed. It's the stories of these groups and their interplay with chance and fate that makes this book so fascinating for anyone interested in the music of The Beatles' era."
Pete from Indianapolis, USA.
Copyright © 2020 Martin Orkin. All rights reserved.