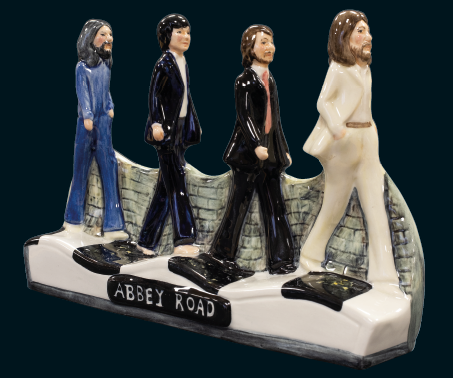 Frequently Asked Questions
What size is the book?
Rivals Of The Beatles measures approximately 241 x 182 x 48mm (9.5" x 7.2" x 1.9"). It is a glossy hardback book and weighs about 1.55kilos (3.4lbs). There are over 800 pages. This book is solid!
Is the book well made?
As stated, Rivals Of The Beatles is hardback; this is for greater durability. Also the pages are sewn in, not glued, despite it being a more expensive process. This is to ensure as long a lifespan as possible for each copy of the book.
What is the price of Rivals Of The Beatles?
Rivals Of The Beatles costs £30.00 GBP plus postal and other costs (see below.) Full payment in advance in GBP only.
Where can I buy Rivals Of The Beatles?
Rivals Of The Beatles is available from this website.

What are the shipping charges?
At time of writing (April 2021) these are as follows, and include secure packaging:
Within mainland UK & N.Ireland: Free Delivery until further notice! C. 2-3 business days from despatch. (Signed For.) Please note this is a special offer only for copies purchased for delivery within the UK!
EU countries as specified below: c 3-5 business days from despatch. (Tracked and/or Signed For.)
France, Germany, Netherlands, Republic of Ireland: £19.00 GBP.
Spain, Italy, Norway, Sweden: £19.00 GBP.
Other countries as specified below: c 6-7 business days from despatch. (Tracked and/or Signed For.)
USA, Canada: £26.00 GBP.
Japan: £30.00 GBP.
Australia, New Zealand: £36.00 GBP.
Please note: the above shipping prices and estimated delivery timescales are subject to change at any time without notice, due to factors beyond my control. Also in certain circumstances a surcharge may very occasionally be levied by the shipping company for deliveries to particular areas within a country (eg to a remote part.) If an additional shipping charge should be applied to any order placed, I will contact the buyer to explain the situation. They can then either choose to pay the extra sum, or I will refund them in full the amount they have already paid and cancel the order.
For any other countries or areas which are not mentioned above, please contact me directly at enquiries@rivalsofthebeatles.com for availability and shipping charges.
Please note that in addition to your full address for delivery purposes, your order details must include your email address and phone number, so that the shipping company can contact you as required regarding delivery to you. Many thanks!
Are shipping charges proportionally cheaper if I buy more than one copy?
Yes! For orders of more than one copy bought in the same purchase order, and going to the same shipping address, shipping prices are currently slightly lower per copy. For the non-European countries above, we have entered in the Shopping Cart process, the current shipping charges for 1, 2 and 3 copies purchased together and going to the same destination. For more than 3 copies in a single order please contact us direct for a specific bespoke shipping quote.
For orders of more than one copy to European countries, please contact us directly.
How will copies be sent out to purchasers?
Copies of the book will be despatched in strong, high quality book wraps using UK Royal Mail/Parcel Force and/or other trusted carriers.
Can I return the book for a refund if dissatisfied?
Sorry, we regret: no returns or refunds permitted.
What about import duties and other taxes levied outside the UK, if any?
External import charges may be levied, particularly in European countries post Brexit. We regret that these must be borne by the buyer. It is up to the buyer to check on whether any such charges may be levied in his/her country before placing an order.
When will Rivals Of The Beatles be available and when will copies be sent out?
Copies are available now. Paid for copies will be sent out as soon as possible.

How can I order and pay for a copy of Rivals Of The Beatles?
Using Paypal via this website only!

What is PayPal?
We use the paypal.com payment processing system for all orders of Rivals Of The Beatles. PayPal is an internationally recognised and widely used payment system. You do not need to have an existing PayPal account to pay for an order via credit card. Just follow the process and PayPal will show you how to complete your purchase as a 'guest'. Your credit card details will not be shared with anyone other than PayPal, and your payment will be processed by PayPal using strict security methods.
Would the author be interested in hearing any feedback for any possible future editions of the book?
Yes please. Email any comments to enquiries@rivalsofthebeatles.com.

Is there a mailing list for any future Rivals or other music-related books that the author might write, if he finds sufficient interest (and energy!)?
If you purchase a copy of the book, your name will be added to an email mailing list for future music-related publications by the author. Your details will not be shared with anyone else. If you do not wish to be on the mailing list, please email your preference to enquiries@rivalsofthebeatles.com.

Who made the attractive Abbey Road china set of Beatles figures on the cover of Rivals Of The Beatles and on this website?
It was made by Roger Bairstow of Bairstow Manor Collectables (01782 281420). Roger kindly gave the author permission to use images of the figure for promoting this book. Contact him direct if you are interested in obtaining a copy of the Abbey Road figures.
How can I contact the author if I have any further queries?
By email at enquiries@rivalsofthebeatles.com.
Are there any errors in Rivals Of The Beatles?
The author was hoping that this Q & A wouldn't be necessary! With much kind assistance from friends, he re-checked all of the text over and over, to remove any typos and other simple errors. But he has just discovered one blooper(!):
Page 100, paragraph 2, line 2, referring to Magical Mystery Tour: the date that UK television audiences watched The Beatles' TV film for the first time was of course Boxing Day, 26th December, 1967, not 1966, as he accidentally wrote. Sorry!
NB If any sharp-eyed readers find anything else wrong (and we hope they don't!), please let the author know via enquiries@rivalsofthebeatles.com and he will add it to this entry.
Copyright © 2020 Martin Orkin. All rights reserved.